Digital menu adapted to your requirements
MENURY as you need it
Customized
Design & Functionality
We customize MENURY according to your wishes. You can still manage the menu via the restaurant portal. The adaptation to your brand guidelines knows no bounds.
Colors
Change the color of fonts & icons
Branding
Remove the MENURY branding and insert your logo.
Font Styles
Implementation of own fonts / fonts and icons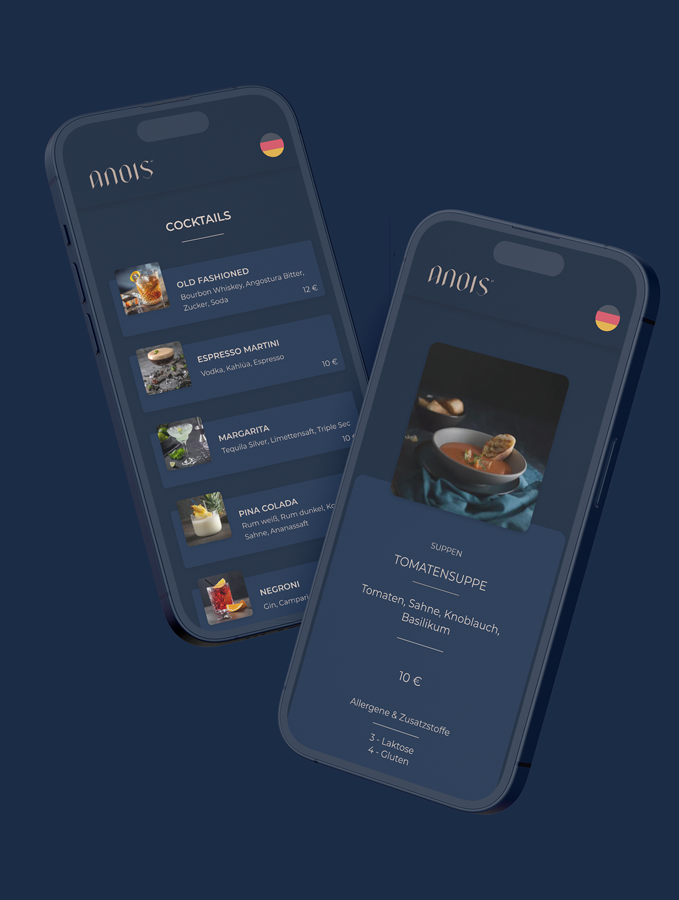 Structure
Individual design of the individual components.
Multilingual
Translation into 7 languages. More possible on request.
Special features
Custom functions and interfaces to other tools.
Process
4 easy steps
to your customized digital menu
2. Contact Person
Your personal contact person will get in touch with you and arrange details.
3. Prototype
We create a prototype of the desired design and send it to you.
4. Development
After approval, we implement all requirements - until you are satisfied.
The QR-Code
Customize your MENURY QR Code
In addition to the design of the digital menu, we also adapt the design of the QR code to your brand guideline. This way, you set yourself and your restaurant apart from the many classic solutions.
Detail view
The dish with all its properties
If a guest clicks on one of the list elements, the depicted view of the respective dish / drink opens with all further information and an enlarged view of the image.